Stadspark verticaal by Upperbloom 16-4
This spring Upperbloom invites everyone with a balcony, terrace or other outdoor space to turn this into a part of a park. From a terrace on the ground floor to a balcony on the 20th floor: this much-needed park is everywhere. Together we can form the first vertical city park in the Netherlands, they say!
Roll up your sleeves, clean up the mess and create your own Vertical City Garden
Upperbloom is happy to help you on your way with some tips and tricks to create a stress-free place where you can enjoy plants, flowers and tranquility.
6 steps to a green balcony:
1. Determine your balcony goal
First question: how do you want to use your balcony? Perhaps you see your balcony as the perfect place to settle down with your cup of coffee every day. Or do you just want to get started with your own vegetable garden on your balcony or terrace? Time to roll up your sleeves and produce your own vegies, fruit and fresh herbs.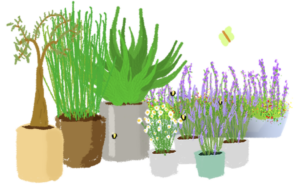 2. Measuring is knowing
This saying applies to outdoor spaces as well. How much space you have tells you exactly what you can do. Will it be a cozy bistro set for a French atmosphere or a sturdy pallet sofa with comfortable cushions? Once you've set up the basics, you can think about the style of greenery you want to add. I have to say, I always like to go big, even though I have a little French balcony 🙂
3. Small but nice
A small balcony also offers many possibilities. Whether it's a French balcony like I have, or a regular balcony with regrettable dimensions that you still want to use every square meter of, the redeeming answer for both is: work the height!
4. Decoration
Nowadays there is a lot of ready-made material – balcony fences, mini vegetable gardens and worm bins – to make it simple but attractive. For example, you can overgrow your walls or balcony railing with a grape bush, honeysuckle or ivy. That is inviting for insects and butterflies. What is possible for a garden or terrace, can often also be done for a balcony!
5. The right plants
In order to listen optimally to the wishes of your balcony plants, it is smart to choose the right flowers for your balcony situation. It makes quite a difference for your plants whether your balcony is in the sun or in the shade. Do you have the sun on your balcony most of the day? Then you will benefit from balcony plants that love those warm rays! 
6. Work with the seasons
That is of course a no-brainer, because that's how plants work. Be aware of the greenery you choose and how much attention you can and want to pay to it. 
Need help?
Afraid you don't have a green thumb? Meet the balcony keepers of Upperbloom here. They are ready to help you out!
When:
Website: Upperbloom
Instagram: Upperbloom